Unfamiliar climates, diverse cultures, unique terrains and a smorgasbord of culinary dishes – these are the reasons why so many cyclists choose to go abroad with their bikes. But it's not always as simple as just packing up and going, it's important to do your research before you embark on your next exciting journey! So, the bug has bitten but you don't know where to start? Worry not because here are some of our top cycling tips for beginners who are looking to cycle abroad:
Choose your destination wisely – top of the list for cycling tips for beginners is to choose your destination wisely. You could essentially go anywhere in the world with your bike, but not all destinations are created equally. You really want to choose a destination where the roads are relatively quiet, where there are various paths to take through gorgeous scenery, where the climate is mild, and where you can ride through quaint towns and indulge in gorgeous foods, beer, and wines. Some places like this include Italy and Spain.
Train, train, train – before you embark on a journey to lands unknown, one of the most important cycling tips for beginners abroad, is that you need to ensure that you get some good training in. Because you don't know what to expect, you want to make sure that you can handle whatever route you find yourself on.
Always have a mobile phone on you – having a working, charged mobile phone on you at all times is crucial. This means that you can keep in contact with loved ones as to where you are, and so you can call someone in an emergency.
Stop for water often– another of the most important cycling tips for beginners, is to make sure you stop for water often. Keep in mind that you might not be able to find fresh water when you stop, so taking enough with you on a ride is recommended. Don't underestimate how hot some foreign places can get in the summer and aim to travel/cycle in shoulder seasons.
Familiarise yourself with the routes – while it's all well and good to take the road less travelled, we highly recommend staying on the main routes when cycling abroad. Before you leave you should study the routes you want to take, and even pack the maps. You don't want to be in a situation where you have no mobile signal and don't know how to get back.
Bring a small toolkit with you – while this may sound a little crazy, another of the top cycling tips for beginners is to bring a small toolkit, perhaps any small spare parts you might need, and an emergency puncture kit. It may sound excessive, but the trick is just about packing essentials. The reality is, that you may not be able to get what you need when you are in a small medieval town somewhere or in a place where they don't have a big cycling culture.
Get travel insurance – probably the most important of the cycling tips for beginners, is to ensure that you get travel insurance. If you are cycling in a European country, you will need to take your European Health Insurance Card (EHIC), but keep in mind that this only covers certain transportation and treatments (visit the European Health Insurance Card site for more information), which is why you may want to opt for travel insurance so that you know you are covered.
Speak to the locals – to truly make the most of your experience abroad, the best thing you can do is talk to the locals about the best restaurants, the dishes to try, the favourite local beer, and even which routes to take.
Consider renting a bike there – unless you are attached to the idea of taking your bike abroad and pushing it to the max, then renting your bike when you get to a certain destination is a great option. It's also far, far easier.
Pack smart – when it comes to cycling tips for beginners, you really want to pack cleverly. Take an array of different cycle gear for different conditions to ensure that a little bit of bad weather doesn't ruin your trip.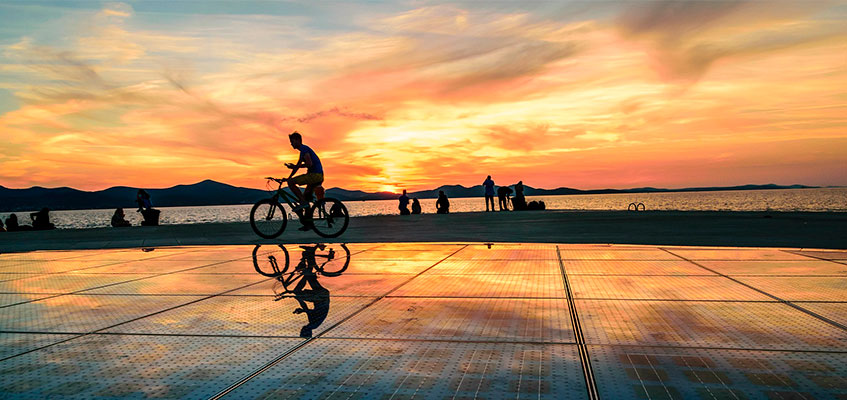 If you are looking for the ultimate destination to cycle abroad then Spain should be at the top of your list. With a Mediterranean climate, gorgeous routes, a biking culture and phenomenal food, there's literally no reasons not to go. Get in touch with us to find out more information about cycling in Spain or to book a stay at one of our incredible hotels in Costa Blanca.