The AR family
AR Hotels & Resorts emerged as a family-run business group with close links to the town of Calpe. For more than 40 years, Calps has been the family home and we're passionate about sharing this wonderful Mediterranean destination with all our guests.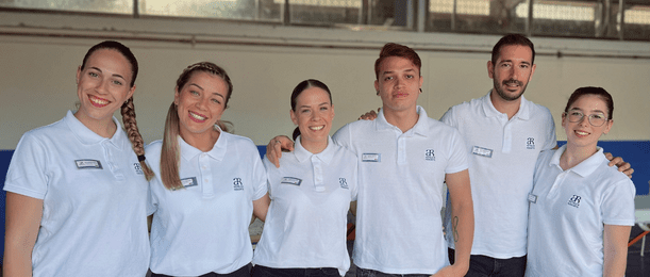 A long career
Like any good story, AR Hotels & Resorts' story started long before the first hotel was built. After commencing in the real estate sector, in 1981 the first establishment emerged and it was soon joined by new buildings and hotels designed for people to enjoy a relaxed, balanced lifestyle where gastronomy and savoir vivre became the heart and soul of the project.
1980
The start of a unique journey
In 1980, construction of the Voramar apartments began alongside the dream of AR Hotels & Resorts to become a leading holiday tourism enterprise on the Costa Blanca.
1989
Growing in Calpe
Construction on the symbolic AR Roca Esmeralda Wellness & Spa Hotel began.
1991
The essential resort for family fun
A new hotel concept took shape with AR Imperial Park All Inclusive & Spa Resort
1998-09
Construction of the different phases on the Topacio, Zafiro, Amatista, Rubino and Esmeralda apartments, among others, positioned the AR Hotels & Resorts Group at the forefront of holiday accommodation options in Calpe.
2004-06
At the same time, the Diamante Beach Spa Hotel & Convention Centre emerged as a hotel establishment with unique characteristics, turning the group into a leading destination for convention and conference tourism as well.
2015
The restaurant Audrey's came into existence to pay tribute to Mediterranean culinary traditions through an experimental range of offerings and a touch of sophistication.
2016
The gastronomy drive
During this year, The Cookbook Gastro Boutique Hotel & Spa opened, along with its restaurants Beat and Komfort, which strengthen AR Hotels & Resorts' decision to opt for experience and gastronomy tourism.
2016-17
We opened the doors of our campsites
With the creation of the Austral and Boreal campsites, which are also located in Calpe, we began to welcome people passionate about this form of tourism.
2017-18
The Michelin Stars rolled in
The first Michelin Star to adorn the Calpe sky arrived in 2017 in recognition of the restaurant Audrey's and its chef, Rafa Soler. Just a year later, Beat - led by José Manuel Miguel - received the same award, acknowledging the passion and commitment to offering the best cuisine to AR Hotels & Resorts clients.
Inspired by people
Although AR Hotels & Resorts has grown and evolved over the years, its essence continues to be the same. We're still inspired by the surrounding area, we're still excited by sunrises over the sea and life's simple pleasures, like a good wine or great conversation between friends. Of course, we're still inspired by people; we're proud of our fabulous team of professionals who accompany us and share our passion for quality while always focusing on the client. And, naturally, we love welcoming families and travellers of all ages from all over the world.
We can't wait to see you in Calpe!
Human Touch
Leaving a positive mark on everything we do. That's our main goal and to achieve it, it's simply a question of putting our heart and soul into everything we do, right down to the last detail. We love to see our clients value our work philosophy and, by extension, our life philosophy.
Great place to work
AR Diamante Beach has been successively recognised with the seal "Best workplaces – España" between 2015-2019, certifying the group's excellent business culture. We've devised a workplace built on trust, collaboration and productivity that drives us to do our best every day.
Subscribe to our newsletter
Want to stay up to date with our latest news and events?