Roca Esmeralda
Wellness & Spa Hotel
Spa & Wellness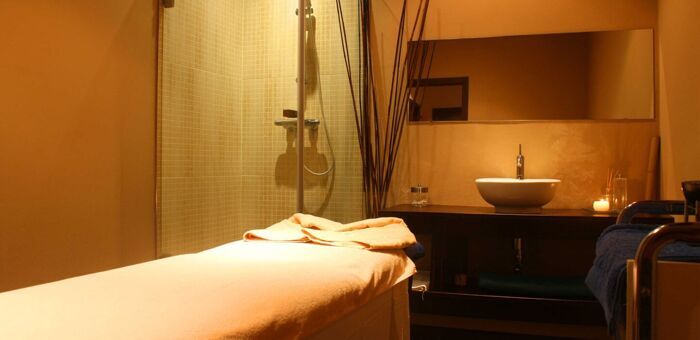 We know full well that when the body and mind are in perfect harmony, your holidays are even more enjoyable. Feel right at home at AR Roca Esmeralda Wellness & Spa Hotel.
Heated pool with a temperature of 31º 365 days a year
Turkish bath and Finnish sauna
Private treatment cabins
Professionals trained in aesthetics, well-being and Oriental therapies
Spa, pool and gym
You'll find the perfect opportunity to unwind in our cosy spa. Immerse yourself in the jacuzzi's bubbles and cleanse your skin in the Turkish bath. There's no better beauty routine than tranquillity.
Tone your muscles all year long in our 16 x 8-metre heated pool and complete a full workout in our gym which features specialised equipment for exercising the whole body. If you prefer a quieter plan, book a massage, body wrap treatment or well-being therapy session with one of our highly skilled professionals.
Our
treatment and services

list
Etiquette
Remember that you are in an environment designed for peace and relaxation. Please turn off your mobile phone when you are in our facilities. Do not forget to wear your swimming suit to enter the spa area and your sports shoes to use the gym.
Bookings
We offer extensive opening hours but we would nevertheless recommend booking in advance to make sure you can find the best time for you.
Cancellation Policy
If you'd like to cancel a service or treatment you've booked, please bear in mind that there will be a penalty of 50% of the total amount for 24 hours before your appointment, or 100% from 12 hours before your appointment. Thank you for your understanding.