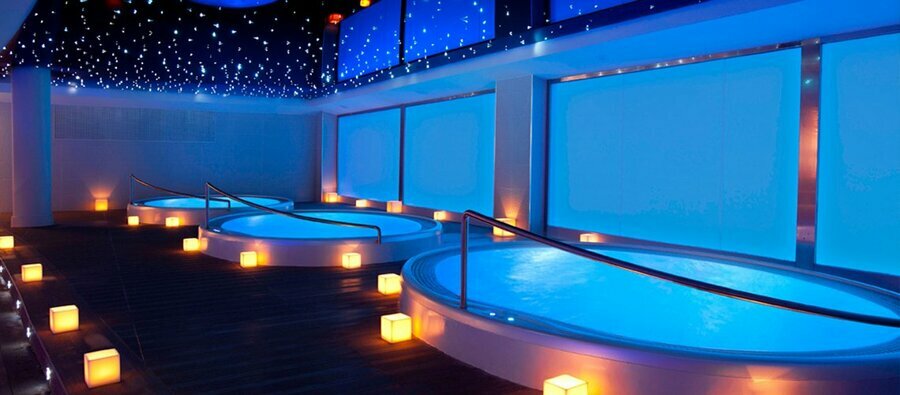 When it's mentioned, images of palm tree-lined streets, boutique shops, beautiful people and incredible white sandy California beaches seem to be conjured up — images which we have largely seen in… yes, the movies. Now while planning a holiday to Hollywood would be amazing, why fly halfway across the world when you could have a Hollywood type experience in Spain, where you can fulfill all your Hollywood dreams and indulge in the high life and luxury that it offers. The hotels in Calpe are bound to make you feel like a star.
Here's a list of four incredible hotels in Calpe that will make you feel like you are in a movie with the likes of Bruce Wayne and Danny Ocean.
AR Diamante Beach Spa & Convention Centre
The epitome of luxury, it is no wonder that AR Diamante Beach Spa and Convention Centre is AR Hotel's flagship property. One of the best hotels in Calpe, the name alone should give you an idea of the Hollywood-style luxury you are in for at this hotel. Centrally and conveniently located, it's a mere 200 m from Levante beach, a kilometre away from the Peñon de Ifach and the Calpe harbour, and a two minute walk to the seaside promenade — the bars, restaurants and shops will have you feeling like a million dollars and is definitely the place to be seen. Elegant, luxurious rooms with complimentary wifi, flat-screen tvs and air conditioning will have you wondering if you should ever leave. With three outdoor pools and a jacuzzi to choose from, guests are spoilt for choice when it comes to where to bronze their bodies and soak up the sun. Of course, it would be a mistake to visit this property without visiting the incredible spa — on offer are exotic treatments, massages, body wraps, skin peels and so much more. A day at this spa is sure to leave you feeling like a celebrity.
After a day filled with shopping, tanning, spa treatments and relaxing, treat yourself to a beautifully prepared gourmet meal at the hotel's restaurant, Audrey's. Named after the Breakfast at Tiffany's actress, this classy fine dining establishment with its delicious food will have you feeling like you are Audrey Hepburn herself.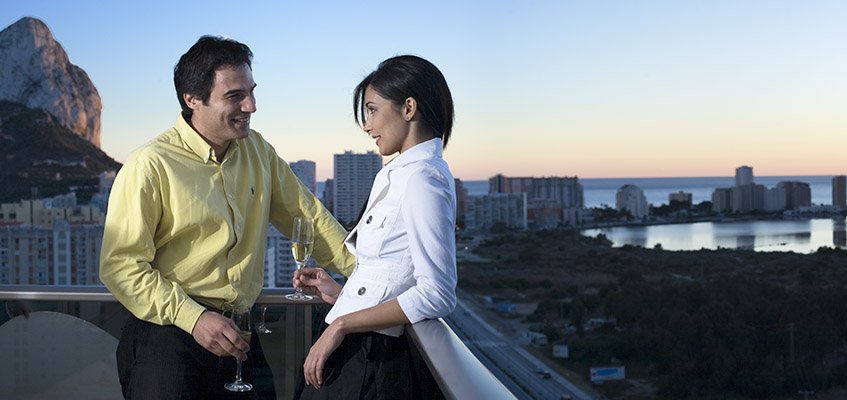 AR Imperial Park Spa Resort
Situated on a hillside, AR Imperial Park Spa Resort boasts an incredible view of not only the sparkling mediterranean and the Peñon de Ifach rock but sweeping views of the city and the Costa Blanca. At this all-inclusive resort there is no shortage of things to do, and the highly trained staff will cater to your every whim, celebrity-style. This resort offers tastefully decorated bungalows that provide ample space to relax when you want some privacy and the spa, pools, buffet and restaurant await you when you feel like it's time to go out in public. Not to mention the ample options that Calpe itself provides in terms of once-in-a-lifetime experiences, delicious cuisine and shopping opportunities. Enjoy yourself at this hotel in Calpe and prepare to feel like the star you are.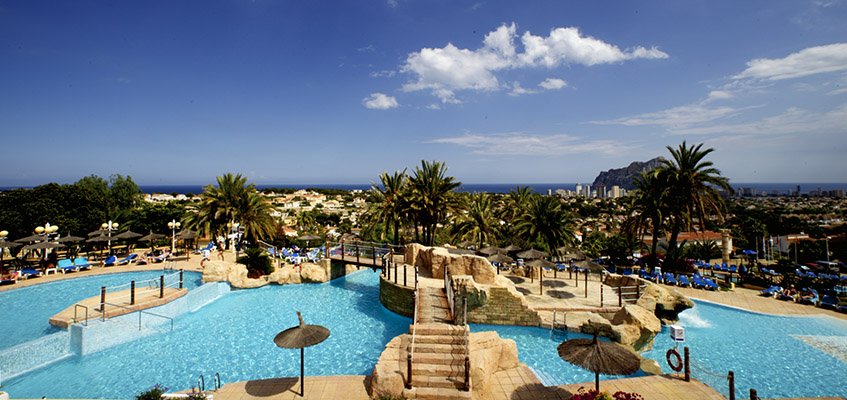 Hotel AR Roca Esmeralda & Spa Hotel
Situated along the gorgeous Fossa beach, this perfectly located Calpe hotel is approximately two kilometers from the Parc Natural del Penyal d'Ifac. The charming rooms are equipped with all the amenities needed to make your getaway to paradise comfortable. Hotel AR Roca Esmeralda & Spa has the Peñon de Ifach practically on the property's doorstep and it serves as an impressive sight. The hotel offers an outdoor swimming pool as well as a jacuzzi and for those that want to ensure their bodies stay beach ready while they are on holiday, the hotel offers a gym as well. After all, you never know who you might run into. Celebrities don't fuss about the details and neither should you — indulge in the hotel's all-inclusive packages where you literally have nothing to worry about. Whether you want to relax by the pool for a brag-worthy tan, enjoy the onsite entertainment or sip on a cosmo by the cafe-bar, you are rest assured to enjoy yourself. And as you look over the city to the sea, you can be sure to feel like you are living the life of a celebrity.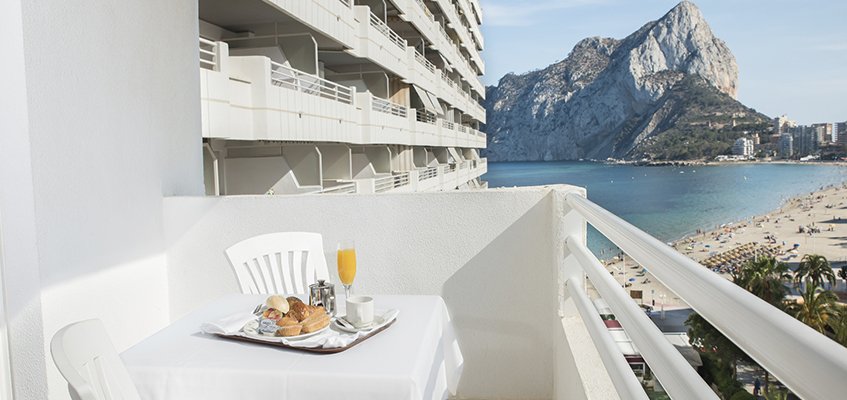 Hotel AR Galetamar
Another one of the most wonderful hotels in Calpe, Hotel AR Galetamar is film location worthy. With mesmerizing views of the Mediterranean sea and the Levante beach minutes away, you will realise that you have arrived in paradise. The charming rooms are the perfect place to unwind after wonderful days spent shopping and lying on the beach and the hotel, as well as the surrounding areas, have so much to choose from. Indulge in breakfast and local cuisine in the restaurant, let out your inner Angelina Jolie and opt for something adventurous like scuba diving, hiking or cycling or simply relax on the beach — whatever you choose, you are sure to feel like you are living the life of the rich and famous at Hotel AR Galetamar.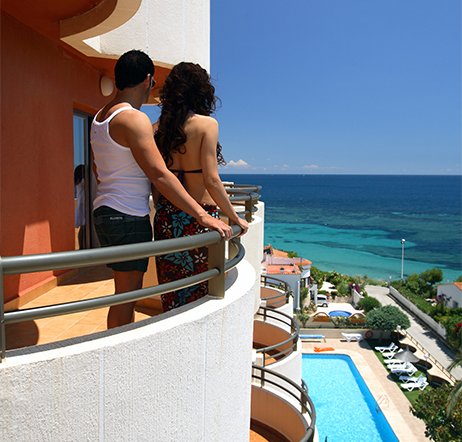 Are you are ready to take a holiday that will leave you feeling not only relaxed and rejuvenated, but as if you just stepped out of a top Hollywood hotel as a celebrity? Contact us to make a booking at one of our incredible hotels, where we will make sure that you leave feeling like nothing short of famous.
The incredible range of hotels in Calpe have everything you need and more to create a luxurious experience that would rival any Hollywood hotel. From first-class restaurants, indulgent spas and breathtaking views to gorgeous rooms and facilities, we have everything you need to make you feel like a movie star. Contact us book or inquire about one of our incredilbe hotels in Calpe.